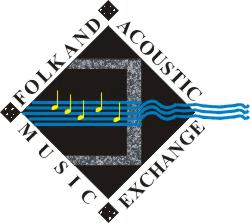 A review written for the Folk & Acoustic Music Exchange by Mark S. Tucker (progdawg@hotmail.com).
I'm one of the few critics who has been singing the praises of the chamber World group Oregon for decades now, an ensemble composing the true genesis of refined world jazz music. That's the main reason I'm so tough on genre releases, much to critic John Diliberto's dismay, an emotion he's more than once hastened to apprize me of. Tough. I demand artistry in my musics, not Prozac for mindless yuppies eager to absolve their gluttonous natures via art. I pass up world CDs right and left because 80% of them suck and suck bad. Ah, but then there are the gems, and that's what I live for: great art.
Mariah Parker has assembled a cast of seriously talented and thoughtful players for her Sangria release, a thoroughly engaging foray into what World music fusions always should be. Ironically enough, she included Paul McCandless, Oregon's winds player, to join in. Foremost in her backing ensemble, though, is guitarist Matthew Montfort, whom I'm also reviewing this month (here), and the match is very well suited along with players crafting a dauntingly skilled demonstration of tabla, bansuri, sarangi, cello, and other exotica (well, to Western ears, anyway). The manner in which all these players come together to generate Parker's intricately artificed compositions is tributary of her prowess on several levels.
As a piano player, Parker tends to accompaniment more than stand-out leadwork, though she will take the spotlight every so often. Thus, she's more at one with the rhythm section, occupying a mid-zone between recessed elements and front men. This makes the rhythm players extraordinarily effusive, a veritable jungle through which the rest of the instrumental voices weave and vault. Think of her as a sort of Barbara Thompson and you'll have a beginning idea as to arrangement skills. But it's the welter of interlocking lines that carry the headiest reward, a milieu where everyone nails down their position and then stamps each line with authority, gusto, and personality.
I was in no way prepared for this CD to be as good as it is. As is the case with many great World collections, the music's one long run of great craftsmanship with sundry permutations, shifts, and inflections. No one, but no one, will ever ace Oregon, but Sangria and Mariah Parker stand high just below them.