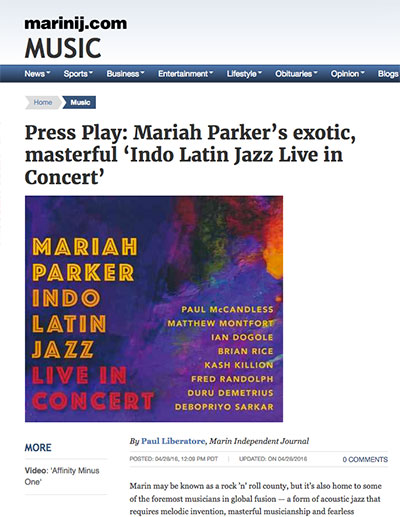 Marin may be known as a rock 'n' roll county, but it's also home to some of the foremost musicians in global fusion — a form of acoustic jazz that requires melodic invention, masterful musicianship and fearless improvisation.
Eight of the best players on the planet are featured on pianist Mariah Parker's new album, "Indo Latin Jazz Live in Concert," recorded at Yoshi's in Oakland, Berkeley's Freight & Salvage, the 142 Throckmorton Theater in Mill Valley and Bob Weir's TRI Studios in San Rafael.
On this dazzling record, Parker, who has worked with Grateful Dead drummer Mickey Hart on his "Planet Drum" project, leads a stellar ensemble of reed master Paul McCandless, best known as a founder of the pioneering acoustic jazz group Oregon; guitarist Matthew Montfort, who plays with Parker in the distinguished world fusion group Ancient Future; Marin percussion master Ian Dogole, bassists Fred Randolph and Kash Killion, percussionist Brian Rice, tabla maestro Debopriyo Sarkar and conga player Duru Demetrius.
Parker, who holds a degree in music from UC Santa Cruz, wrote the eight instrumental compositions on this exquisite collection of pieces that fuse Latin rhythms with influences from South America and India with a dash of straight-up American jazz. It's an intoxicating blend of East and West performed by musicians of astounding virtuosity.
On tunes such as "Close Passage" and the lively "Sangria," for example, Montfort, playing a seldom-heard scalloped fretboard guitar, engages in musical conversations with McCandless as Parker and company create a sonic forum for the soloists' engrossing calls and responses.
Like all the best jazz bands, this group is as disciplined as it is innovative, stopping on a dime when the composition calls for it and soaring into gorgeous landscapes of free association the next moment that are as pleasing as they are adventurous.
This is sophisticated stuff, an album of global fusion performed by a group with character, charisma and the confidence that comes across when world-class musicians at the top of their games come together and create magic in the here and now of a live performance.