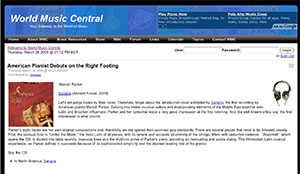 CD Reviews
Sangria (Ancient Future, 2009)
Delving into Indian musical culture and incorporating elements of the Middle East together with Latin and Brazilian influences, Parker and her collective leave a very good impression at the first listening. And like well known critics say, the first impression is what counts.
Parker's eight tracks are her own original compositions and, thankfully, we are spared from worn out jazz standards. There are several pieces that need to be followed closely. First, the sensual flute in "Under the Moon," the most Latin of all pieces, with its serene and accurate strumming of the strings, filters with seductive cadence.  "Watermill", which opens the CD, is divided into tabla sounds, muscular bass and the rhythmic pulse of Parker's piano, providing an insinuating and subtle dialog. This Hindustani Latin musical experience, as Parker defines it, succeeds because of its sophisticated simplicity and the discreet leading role of the pianist.
— Rafael Mieses