FOR IMMEDIATE RELEASE
8/13/11
Contact: Ancient-Future.Com Records
1-888-823-8887
info@ancient-future.com
Mariah Parker's Indo Latin Jazz Ensemble at 142 Throckmorton Theatre 10/6/11
Thursday, October 6th, 8 pm
142 Throckmorton Theatre
142 Throckmorton Avenue
Mill Valley, California
Tix: $18 in advance, $23 at the door
For more info, call 415-383-9600 or visit www.142ThrockmortonTheatre.com

Ancient-Future.Com Records Artist
Mariah Parker's Indo Latin Jazz Ensemble
Featuring Mariah Parker (composer, piano, santur) and a stellar lineup of musicians including Paul McCandless (Grammy award-winning woodwind virtuoso with the groups Oregon and Paul Winter Consort), Matthew Montfort (pioneering guitarist with Ancient Future), Ian Dogole (global percussion), Brian Rice (Latin percussion), and Fred Randolph (bass)
Mariah Parker's Indo Latin Jazz Ensemble blends the driving rhythmic syncopations of Latin jazz with the asymmetrical meters of East India. They will be performing original material from her highly acclaimed CD 'Sangria' as well as debuting some compelling new compositions.
"...first-class world music. Intriguing melodies that draw musical inspirations from the tempos of Brazil, Cuba, India and Spain make for an uplifting serene yet passionate musical journey into an ideal world." — LATIN BEAT MAGAZINE
"Mariah Parker's Indo Latin Jazz Ensemble creates voodoo... when I saw them live at Kuumbwa Jazz Cafe they were purely raw and fearless." — JOHN SHELTON IVANY, TOP 21 (former editor of Hit Parader and Rock and Soul national magazines)
"Mariah Parker's Indo Latin Jazz Ensemble packed Yoshi's in Jack London Square, and the incredible live performance had the audience screaming for more of the Indo-Latin jazz rhythms filling the celebrated jazz club." — BERKELEY DAILY PLANET
Band Bios

Mariah Parker (composition, piano, santur)
Mariah Parker is a composer and multi-instrumentalist whose main instruments are santur and piano. While completing her degree in music at UC Santa Cruz, she worked with ethnomusicologist Fred Lieberman and Mickey Hart on the Planet Drum project. She has worked with many musicians of note including composer Pauline Oliveros and the late Dumisani Maraire (renowned composer from Zimbabwe), and performs regularly with the trend-setting world music group Ancient Future. www.mariahparkermusic.com
Paul McCandless (woodwinds and horns)
During a distinguished career spanning three decades, Paul McCandless has brought a soaring lyricism to his playing and composing that has been integral to the ensemble sound of two seminal world music bands, the original Paul Winter Consort and the innovative quartet, Oregon. A gifted multi-instrumentalist and composer, McCandless has specialized in an unusually broad palette of both single and double reed instruments that reflect his grounding in both classical and jazz disciplines. www.paulmccandless.com
Matthew Montfort (scalloped fretboard, flamenco, and fretless guitars)
Matthew Montfort is the leader of influential world fusion group Ancient Future, and pioneer of the scalloped fretboard guitar. He has recorded with legendary world music figures including Zakkir Hussain, and has performed concerts world wide, including at the Festival Internacional de la Guitarra on the golden coast of Spain near Barcelona and the Mumbai Festival at the Gateway of India in Bombay. www.ancient-future.com
Ian Dogole (world percussion)
For nearly 30 years, Ian Dogole (www.iandogole.com) has articulated his vision of Global Fusion Music as a multipercussionist, bandleader, educator, recording artist, composer and producer. He has recorded and performed with artists such as Hamza el Din, Tito La Rosa, and Alex DeGrassi on a wide variety of percussion instruments, including udu, cajon, hang, African talking drum, kalimbas, cymbals and dumbek. www.iandogole.com
Brian Rice (Latin percussion)
Brian Rice is a freelance percussionist with a B.M. in Percussion Performance and Ethnomusicology from the Oberlin Conservatory of Music. A well-rounded musician, Brian is a highly acclaimed performer, educator and recording artist adept at numerous musical styles including Latin, Afro-Cuban, Brazilian, and contemporary music. www.brian-rice.com
Fred Randolph (bass)
While working on his Master's Degree in Composition at CSU Hayward, Fred Randolph fell under the spell of the bass, captivated by its endless possibilities and sounds. An accomplished performer, composer, arranger, and educator, Fred is a first-call bassist for many of the Bay Area's finest jazz orchestras and musicians, including the Contemporary Jazz Orchestra and Collective West Jazz Orchestra at Pearl's, Sandy Cressman's Homenagem Brasileira, Marcos Silva, and Frank Martin. www.fredrandolph.com/
Videos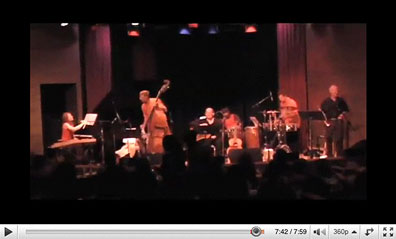 Mariah Parker's Indo Latin Jazz Ensemble performs 'Affinity Minus One' at Yoshi's:
https://www.youtube.com/watch?v=WARbr891OGQ
Sangria by Mariah Parker
Sangria by Mariah Parker (Ancient-Future.Com AF 2017). $17.98: Buy 1 Now. (>audio).
Hi-Res CD Cover Art of Sangria (3.2 MB):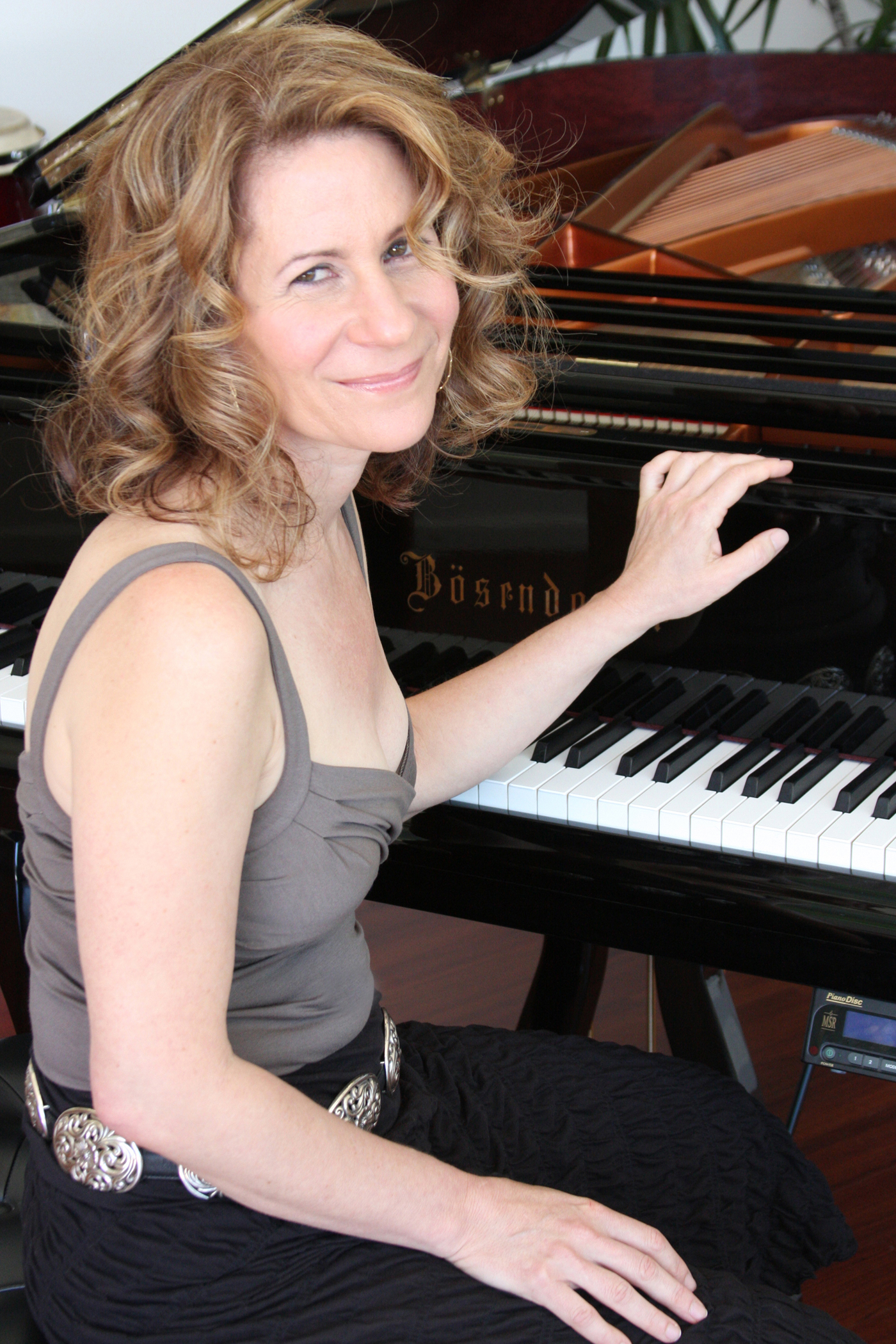 Mariah Parker with Piano Hi-Res Photo by Ross Pelton (2.0 MB):
https://mariahparkermusic.com/PR/mp_300dpi_piano2.jpg
Mariah Parker's debut recording on Ancient-Future.Com Records, Sangria, features her original compositions that draw musical inspiration from Brazil, Cuba, Spain, and India. Her Indo Latin Jazz Ensemble accompanies her and includes musicians from the bands Ancient Future, Oregon, Sun Ra, and Herbie Hancock's Headhunters.
Sangria received airplay on over 400 New World, Jazz, and Latin radio programs. The recording has earned over 90 media and chart placements including two songs on the Smooth Jazz Now Top 100 Songs of 2009 Chart and rave reviews such as the following:
"Dazzling debut.... Parker's subtle and sensuous sounds reflect exotic flavors of India, the Middle East and Latin America." — PALO ALTO DAILY NEWS
"Spicy tantalizing flamenco melodies cross pollinate with East Indian rhythms." — MAXIMUM INK MUSIC MAGAZINE
"First class world beat that really covers the bases." — MIDWEST RECORD
80 Word Radio Announcement
On Thursday, October 6, at 8 pm, Ancient-Future.Com Records artist Mariah Parker and her Indo Latin Jazz Ensemble will perform at 142 Throckmorton Theatre in Mill Valley, California. The concert features Mariah Parker on piano and santur, Paul McCandless on woodwinds and horns, Matthew Montfort on guitars, Ian Dogole on world percussion, Brian Rice on Latin percussion, and Fred Randolph on bass. Tickets are $18 in advance and $23 at the door. Call 415-383-9600 or visit www.142ThrockmortonTheatre.com for more information.