FOR IMMEDIATE RELEASE
2/20/16

Mariah Parker's Indo Latin Jazz Ensemble Performs at Throckmorton Theatre
Pre-Release Concert for Live Recording Project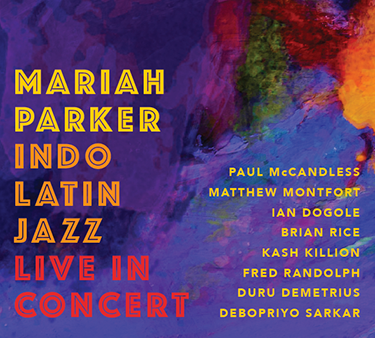 Saturday, April 30, 2016, 8:00 PM
Throckmorton Theatre
142 Throckmorton Avenue
Mill Valley, California
Tickets: $20 in advance, $25 at the door, $35 reserved seating
For more info, call 415-383-9600 or visit www.ThrockmortonTheatre.org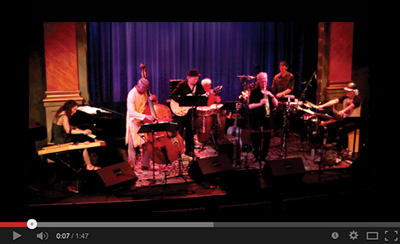 Mariah Parker's Indo Latin Jazz Ensemble performs 'Samba in Seven' at the Throckmorton Theatre in Mill Valley:
http://youtu.be/ZZhEPGOag30
Mariah Parker's multi-faceted approach to music blends the driving rhythmic syncopations of Latin jazz, the uplifting spirit of Eastern music, and the soul of flamenco.
This concert is a pre-release celebration of Mariah Parker Indo Latin Jazz: Live in Concert, the culmination of a six year project, drawing on concerts at Yoshi's, Freight & Salvage, the Throckmorton Theatre, and TRI Studios. Timed to come out in the fall, this concert will be an opportunity for music lovers to purchase the CD prior to its official release. The band will perform original material from the CD along with premiering some new compositions in the works for an upcoming studio recording.
Featuring Mariah Parker (composer, piano, santur) and a stellar lineup of musicians including Paul McCandless (Grammy award-winning woodwind virtuoso with the groups Oregon and Paul Winter Consort), Matthew Montfort (pioneering guitarist with Ancient Future), Ian Dogole (global percussion), Brian Rice (Latin percussion), and Kash Killion (bass, cello). With special guest artist, percussionist Michaelle Goerlitz (Latin percussion).
"Parker and friends blend the rhythmic syncopations of Latin jazz music with the entrancing, asymmetrical meters of East Indian rhythms resulting in first-class world music. Intriguing melodies that draw musical inspiration from the tempos of Brazil, Cuba, India and Spain make for an uplifting serene yet passionate musical journey into an ideal world." - LATIN BEAT MAGAZINE
"Spicy tantalizing flamenco melodies cross pollinate with East Indian rhythms." - MAXIMUM INK MUSIC MAGAZINE

Bios
Mariah Parker (composition, piano, santur)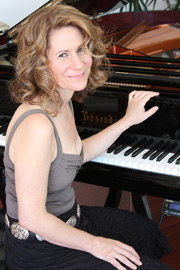 Mariah Parker. Hi-res photo for print by Ross Pelton (5 x 7 jpg, 2.3 MB):
Mariah Parker is a composer and multi-instrumentalist whose main instruments are santur and piano. Her first instrument was the piano which she began playing at age 5. Later while working on her degree in music at UC Santa Cruz, where she collaborated with ethnomusicologist Fred Lieberman and Mickey Hart on the Planet Drum project, she fell in love with the sound of the santur when she heard it drifting across campus. She has performed in the US and Europe, and worked with many musicians of note including composer Pauline Oliveros and the late Zimbabwean composer Dumisani Maraire. She performs regularly with the innovative world music group Ancient Future.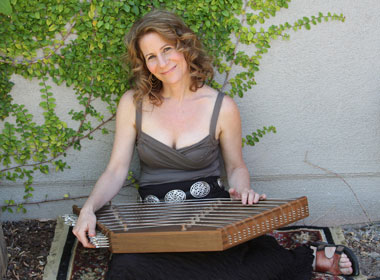 Mariah Parker with santur (a Persian manual ancestor to the mechanical piano). Hi-res photo for print by Ross Pelton (5 x 4 jpg, 1.6 MB)
Matthew Montfort (Scalloped Fretboard Guitar)
Recently recognized as one of the world's 100 Greatest Acoustic Guitarists, Montfort is a pioneer of the scalloped fretboard guitar and the leader of the seminal world fusion music ensemble Ancient Future. He has performed concerts world wide, including at the Festival Internacional de la Guitarra on the golden coast of Spain near Barcelona and the Mumbai Festival at the Gateway of India in Bombay.
Paul McCandless (Reed Virtuoso)
During a distinguished career spanning three decades, Grammy-winning woodwind virtuoso Paul McCandless has brought a soaring lyricism to his playing and composing that has been integral to the ensemble sound of two seminal world music bands, the original Paul Winter Consort and the relentlessly innovative quartet, Oregon. A gifted multi-instrumentalist, McCandless has specialized in an unusually broad palette of single and double reed instruments that reflect his grounding in both classical and jazz disciplines.
Brian Rice (Latin Percussion)
Brian Rice is a highly acclaimed musician specializing in Latin, Afro-Cuban, and Brazilian percussion who performs with acts such as Mike Marshall with Choro Famoso and the Antionio Calogero Quartet featuring Paul McCandless and Mike Manring.
Ian Dogole (Global Percussion)
Ian Dogole is a bandleader, composer, and multi-percussionist who has recorded and performed with artists such as Hamza el Din, Tito La Rosa, Ancient Future, and Alex de Grassi on a wide variety of percussion instruments, including udu, cajon, hang, African talking drum, kalimbas, cymbals and dumbek.
Kash Killion (Bass, Cello)
Kash Killion plays cello, bass and assorted African and Middle Eastern stringed instruments, and has worked with Donald Byrd, George Cables, Billy Higgins, Cecil Taylor, John Zorn, Sun Ra, Butch Morris, George Lewis, Reggie Workman, and the Sun Ra Arkestra.
Michaelle Goerlitz (Latin Percussion)
A talented percussionist with a focus on Brazilian, Afro Cuban, Venezuelan and Peruvian rhythms, Michaelle has played, recorded and toured with Mark Levine, Wayne Wallace, Houston Pearson, Denise Perrier, Joan Jeanrenaud, the Pickpocket Ensemble, Samba Rio, Novo Tempo, Bossa 5-0, and many others.

82 Word Radio Announcement

On Saturday, April 30, at 8 pm, Mariah Parker and her Indo Latin Jazz Ensemble will perform at Throckmorton Theatre in Mill Valley, California. The concert features Mariah Parker on piano and santur, Paul McCandless on woodwinds and horns, Matthew Montfort on guitars, Kash Killion on bass and cello, Ian Dogole on world percussion, and Brian Rice and Michaelle Goerlitz on Latin percussion. Tickets are $20 in advance, $25 at the door, and $35 for reserved seating. Call 415-383-9600 or visit www.ThrockmortonTheatre.org for more information.